Fire Aboard MSC Cruise Ship Laid-Up in Greece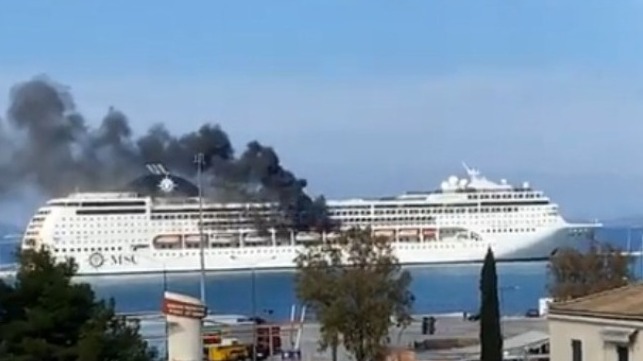 Smoke has been seen billowing from the laid-up cruise ship MSC Lirica which is currently at the dock in Corfu, Greece. Media reports indicate that a fire broke aboard the ship, which has a skeleton crew aboard, at 3:30 p.m. local time and that the crew initially tried to extinguish the fire before local assistance arrived on the scene.
Local media is reporting that the fire department sent 13 vehicles to the scene along with one fire boat. The Greek Navy also responded to the fire.  At one point two fireboats were alongside the cruise ship. Later reports indicate that the fire has been extinguished by 7:00 p.m. local time.
MSC Cruises reported that there were 51 crew members aboard the ship and that no one was injured in the blaze. MSC is also saying that the fire may have originated in one of the lifeboats and that the damage was mostly limited to exterior scorching and and smoke on the superstructure in the middle of the ship. Pictures appeared to show two lifeboats destroyed by the fire and damage to staterooms in the midship area above the fire as well as possibly to the midship pool deck.
Built in 2003 at the Chantiers d'Atlantique shipyard in France, the 65,500 gross ton cruise ship has been idle in Corfu since January 2021, held in warm lay-up. The port police were reported to be investigating the incident.